News & Events
Sun Mountain Doors Opens a Showroom in Pacheco Park!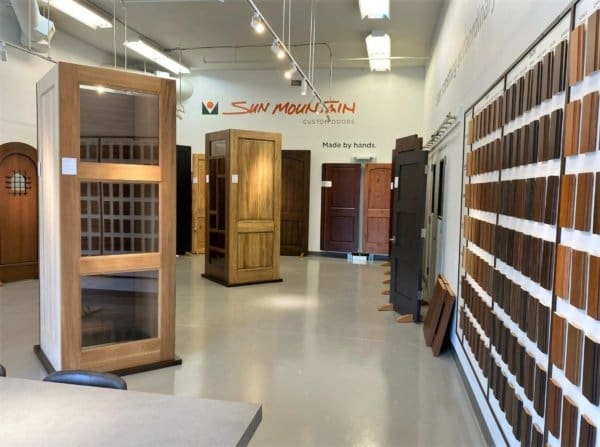 With a process that merges Old World craftsmanship with modern woodworking technology, Sun Mountain creates extraordinary wood doors. Sun Mountain doors are available in the broadest selection of designs and materials. And the company continues its founders' legacy as master wood finishers, with a wide collection of luxurious stains and hand-applied glazes. Enjoy the journey to find the perfect wood door. The door that welcomes and conveys warmth, that reflects style and sophistication, that makes the house a home. Welcome to Sun Mountain—the premier maker of custom wood doors in the U.S.
WHY SUN MOUNTAIN CUSTOM DOORS?
Why purchase from Sun Mountain? Here are a few reasons.
MADE IN AMERICA
Sun Mountain products are manufactured in northern Colorado. The company offers high quality products made with locally and regionally sourced materials.
FACTORY-DIRECT PRICING
Purchasing from Sun Mountain is purchasing direct from the manufacturer. This reduces channels of communication, potential miscommunications, and errors. But most importantly, purchasing direct provides the best pricing possible—eliminating markups of a wholesaler or distributor.
UNLIMITED CUSTOMIZATION
Most distributors stock a limited selection of styles and sizes of product, and cannot service unique or odd-sized needs. At worst, this translates to product unavailability. At best, this leads to longer lead times, with customers waiting for special order manufacturing through another supplier. Sun Mountain can supply thousands of design, wood species, and glass combinations, with products sized to fit exact needs.
SHORT LEAD TIMES
Sun Mountain uses state-of-the-art equipment and a proprietary scheduling system to offer industry-leading lead times. Where other custom manufacturers offer lead times of 8 to 12 weeks, Sun Mountain typically supplies demand in 4 to 6 weeks. The company also stocks several of the most popular door styles and sizes for ultra-fast delivery.
HIGH-QUALITY CONSTRUCTION
Sun Mountain's stile and rail doors are engineered to resist warping. Stiles and rails are manufactured with high-quality LVL (Laminated Veneer Lumber) or LSL (Laminated Strand Lumber) core, sandwiched between 1/8″ thick lumber skins. Door panels are solid wood, with no plywood or waferboard core. And, the doors are assembled with robust bore and dowel construction. Sun Mountain's quality and construction are unmatched.
WOOD FINISHING
Sun Mountain offers a large selection of standard stain and glaze finish colors. Because of the company's high quality coatings, equipment, and clean room environment, Sun Mountain's pre-finished products look better, perform better, and often cost less than job site finishes. And if the desired finish cannot be found among Sun Mountain's standard colors, the company can custom mix colors to perfectly match needs.
PRE-HUNG SHIPPING
Most of Sun Mountain's doors ship pre-hung, complete with jambs, hinges, sills, sweeps, and weatherstrip—ready to install. Nothing could be quicker or easier.
Contact:
JESSE TROJNAR
Regional Sales Manager
1512 Pacheco Street, Suite D108, Santa Fe, NM 87505
m 505.699.0675
Sun Mountain
CUSTOM DOORS
Connect with us! SunMountainDoor.com
facebook linkedin pinterest houzz