Board 30 | Santa Fe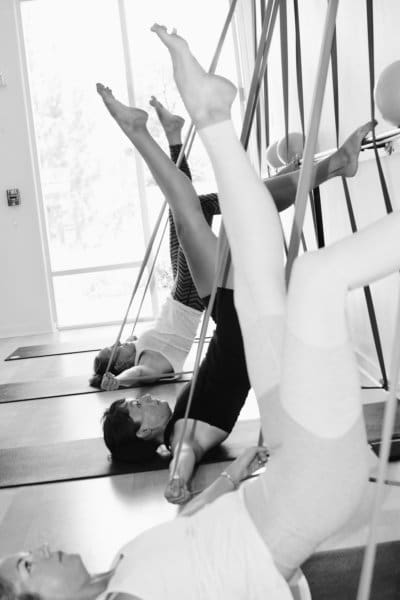 Full Body Workout in Just 30 Minutes
A crazy thing happened when Board 30 founder, Floery Mahoney, stopped her grueling, daily 90-minute long workouts and started working out for less than 30 minutes; she lost eight pounds in 10 days.
The trick, she learned, is to work out in the right way. Formally trained in Pilates, Floery began tying resistance bands to her furniture to create a high intensity, resistance band workout. After three months of experimenting, she designed and built the first Bodyboard.
Four and a half years later, the Board 30 BodyBoard program is being taught in gyms and studios all over the world. And it is helping others feel the same way that Floery does – fitter, stronger, and healthier than ever.
The Santa Fe studio is the flagship studio for the international company, Board 30 BodyBoard. A visit to the Santa Fe studio means you will have the opportunity to meet and take a class with the founder, Floery Mahoney.
Not only are daily BodyBoard classes running at the flagship studio, but international trainings, retreats, pilates classes, and therapeutic massages.
Board 30 BodyBoard is an original approach to fitness. While simple in its set-up and design, the BodyBoard system offers a fun, affordable, and adjustable workout for a wide range of abilities. The structure and varied framework of exercise options sets people up for success and long-term commitment.
In just four years, Board 30 BodyBoard has launched multiple licensed studios across the U.S., and become internationally recognized with locations in spas, clubs, and studios in Los Angeles, Tokyo, Miami and London. Our award-winning trainers work with celebrities such as Salma Hayek, Dr. Oz and Sally Field .
30 minutes of resistance band training that incorporates calisthenic movements with music
(HIIT) high intensity interval training concept
Combination of strength training, cardio, and stretching
Great for all fitness levels, work within your range
Perfect to increase functional daily or sports activity/movement
Increase muscle tone, strength, and size
Reaches the smaller muscles and ligaments creating full body integrity and balance