News & Events
Da Vinci Body Studio on Local Flavor Cover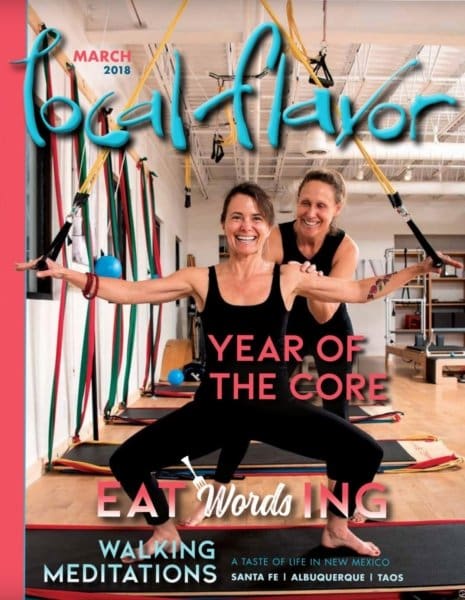 The Year of the Core
BY LOCAL FLAVOR MARCH 2, 2018 BODY, HEALTH AND FITNESS
(Story by Cullen Curtiss / Photos by Joy Godfrey)
According to the Chinese zodiac, it's the Year of the Dog, however, my personal zodiac informs me it's the Year of the Core. When I shared my 2018 focus with Floery Mahoney at her Da Vinci BodyBoard flagship studio in Santa Fe, we knew our meeting was kismet. Co-owner Karen Schardt and Marketer Director and instructor Lily Michaels can attest.
"This whole system is based on your core!" Floery says. "Since we work with multiple anchor points, your body has to ground and it must ground through the core." By system, Floery means her invention: the patented Da Vinci BodyBoard and its accompanying core-emboldening resistance-band calisthenic training regimen.
"When I turned 45, I didn't feel like me," she says. At that time, Floery, a single mom, owned and ran a demanding business in Vergennes, VT, called Daily Chocolate with ChocolateSmith Founder Chris Smith. "To feel better, I did more bootcamps, more spinning classes, and ran more miles, and yet, I was gaining weight and my body ached. I had to stop." And stop she did. Floery stopped the pounding, repetitive, time-consuming exercise and started tying resistance bands to furniture. As owner of the first Pilates studio in Vermont, she knew a thing or two about core and form.
"I would have my son sit in the chair so it wouldn't move," Floery says. "I tied bands to the bed and my boyfriend was like, 'What is going on?' But I realized it was working. I lost weight right away because I was slowing down. And more important, I was getting this connection in my body that I'd never felt before, not even when I was teaching Pilates."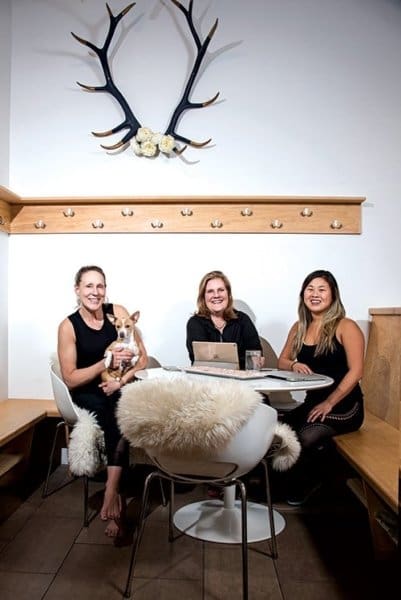 Floery continued to make chocolate by day and night, but had a sense she was onto something different with the bands and the movement. "I found that if I set up a rectangular space and tied bands around me, I could work my body with resistance in contrasting directions." She built one board, felt great, built five more, then put herself to the big test. (As a perpetual small business owner, Floery tolerates and thrives on disruptive, potentially brilliant ideas.) "I led a 'class' for some Lululemon trainer friends," she says. "Afterwards, they said, 'When can we get certified?'"
Floery patented the BodyBoard, sold Daily Chocolate, launched Da Vinci BodyBoard in 2013, and opened shop in Santa Fe in the summer of 2016 at a space attached to Railyard Fitness, and these days, her studio occupies the former Dragon Rising space in Pacheco Park. To what do we owe her choice to become a local? Floery had received her Pilates certification in the City Different more than 20 years previous. What's more, her boyfriend had hoped to come back and she felt Santa Fe would be more hospitable to a small business than Los Angeles, Calif., or Austin, TX. "Santa Fe has a lot of cache," she says. "We did the licensed model trainings for the Chicago and Ft. Collins studios here, and the instructors loved it. And I love being here; it's our home. I am grounded."
Grounded with a strong core describes Floery to a T, and is intrinsic to the promise she delivers clients who enjoy her patented system, with its similarly promising name. That part required some brainstorming. "I wanted to take all of the things in fitness that I think are out of whack. Also, I've always had this connection between art and my life." (Floery's former restaurant, Starry Night Café, continues to thrive in Ferrisburgh, Vermont.)
"I kept seeing flashes of the Vitruvian man and read about Da Vinci's feelings on how the body and nature have symmetry," she explains. "He looked at every single muscle and tendon and how they fit together. I wanted the name to suggest the importance of the entire body, instead of being bulked up in one place." (Evidently, Da Vinci is the pre-cursor inventor of nearly everything. Go and experience Da Vinci, The Genius at the New Mexico Museum of Natural History and Science through the end of July.)